SOUNDTRACK
Ladyhawke
This instrumental album was originally released in 1985. The current CD version has over a half a dozen tracks that were not on the original release.
Andrew Powell wrote the music, and Alan Parsons produced and engineered it. Ian Bairnson, Stuart Elliott, Richard Cottle at their talents to this one as well.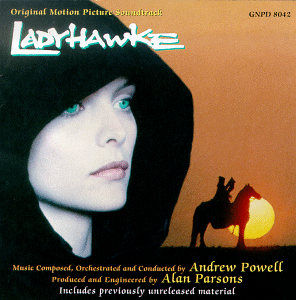 TRACK LIST
1. Main Title
2. Phillippe's Escape
3. The Search For Phillippe
4. Tavern Fight (Phillippe)
5. Tavern Fight (Navarre)
6. Pitou's Woods
7. Phillippe Describes Isabeau
8. Bishop's Procession
9. Wedding Music
10. Navarre's Ambush
11. Imperius Removes Arrow
12. Chase / Fall / Transformation
13. Cezar's Woods
14. She Was Sad At First
15. Navarre Returns To Aquila
16. Turret Chase / The Fall - Film Version
17. Wolf Trapped in Ice
18. Navarre And Isabeau's Dual Transformation
19. Navarre And Marquet Duel
20. Marquet's Death
21. Bishop's Death
22. Final Reunion / End Title
23. Ladyhawke Theme: Single Version

This page, copyright 2001 The Avenue / Avenue Communications.