COURT OF MIRACLES
Miracle Style
Jaki Whitren is best known to APP fans for her work on "I Robot", but let's fast forward to the present and her current band Court of Miracles.
Jaki's incredible voice and trumpet are joined by John Cartwright on keys, guitar and vocals; William Cartwright on bass; and Joby Baker on drums and vocals.
The style is funky and jazzy. The music is both fun and makes a great statement. Take a listen to the clips!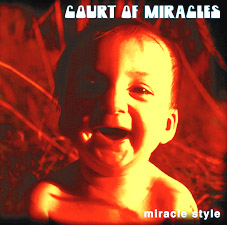 TRACK LIST
3. Spirit Soul Hearted (A Revolution)
4. Mr. Nobody
5. War On Ya People
6. This Ol' Town
7. Last Station
8. Use Ya Voice
9. This Ol' Bus

This page, copyright 2001 The Avenue / Avenue Communications.