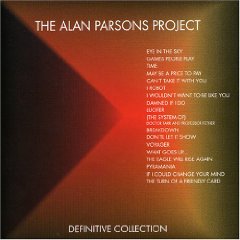 The Alan Parsons Project
The Definitive Collection
Sony/BMG Europe released this set on May 30, 2005. This is not to be confused with the other "The Definitive Collection", which was the first set to contain material from all albums from "Tales" through to "Try Anything Once".
Eye In The Sky vocal: Eric Woolfson (4:36)

Games People Play vocal: Lenny Zakatek (4:14)

Time vocal: Eric Woolfson (5:08)

May Be A Price To Pay vocal: Elmer Gantry (4:52)

Can't Take It With You vocal: Dean Ford (backing vocal: Eric Woolfson, David Paton, Stuart Tosh) (5:05)

I Robot instrumental (6:06)

I Wouldn't Want To Be Like You vocal: Lenny Zakatek (3:19)

Damned If I Do vocal: Lenny Zakatek (4:53)

Lucifer instrumental (5:08)

(The System of) Doctor Tarr and Professor Fether vocal: John Miles (4:20)

Breakdown vocal: Allan Clarke (3:50)

Don't Let It Show vocal: Dave Townsend (3:50)

Voyager instrumental (2:24)

What Goes Up vocal: David Paton (3:31)

The Eagle Will Rise Again vocal: Colin Blunstone (4:38)

Pyramania vocal: Jack Harris (2:45)

If I Could Change Your Mind vocal: Lesley Duncan (5:49)

The Turn Of A Friendly Card (Part I) vocal: Chris Rainbow (2:38)



---
This page, copyright 2009 The Avenue / Avenue Communications.