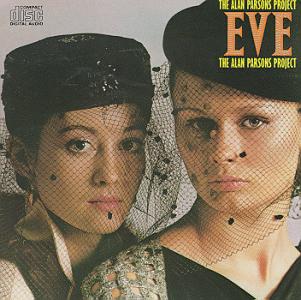 The Alan Parsons Project
Eve
This album was originally released by Arista Records in 1979. The theme? Women.
Lucifer instrumental (5:08)

You Lie Down With Dogs vocal: Lenny Zakatek (3:48)

I'd Rather Be A Man vocal: David Paton (3:55)

You Won't Be There vocal: Dave Townsend (3:40)

Winding Me Up vocal: Chris Rainbow (3:59)

Damned If I Do vocal: Lenny Zakatek (4:53)

Don't Hold Back vocal: Clare Torry (3:39)

Secret Garden instrumental (4:43)

If I Could Change Your Mind vocal: Lesley Duncan (5:49)
Personnel:
Bass: David Paton

Drums and Percussion: Stuart Elliott

Acoustic and Electric guitars: Ian Bairnson

Keyboards: Eric Woolfson, Duncan Mackay

Miscellaneous Instrumental Contributions: Eric Woolfson, Alan Parsons

Backing vocals: Chris Rainbow, David Paton

Vocals: Lesley Duncan, David Paton, Chris Rainbow, Lesley Duncan, Dave Townsend, Lenny Zakatek.

The Orchestra of the Munich Chamber Opera care of Eberhard Schoener: Leader - Sandor Farcas
---
This page, copyright 2002 The Avenue / Avenue Communications.