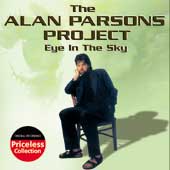 The Alan Parsons Project
Eye in the Sky [Collectables]
This ten track set was released on January 25, 2005 on the "Collectibles" label.
With only ten tracks, the set just scratches the surface of what The Alan Parsons Project was. Positioning "Sirius" as the second last track was also a strange choice.
Eye In The Sky vocal: Eric Woolfson

Time vocal: Eric Woolfson

Damned If I Do vocal: Lenny Zakatek

Standing On Higher Ground vocal: Geoff Barradale

Mammagamma instrumental

Psychobabble vocal: Elmer Gantry

Games People Play vocal: Lenny Zakatek

Stereotomy vocal: John Miles

Sirius Instrumental

Snake Eyes vocal: Chris Rainbow




---
This page, copyright 2009 The Avenue / Avenue Communications.