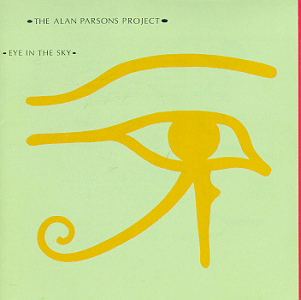 The Alan Parsons Project
Eye In The Sky
This album was originally released by Arista Records in 1982. An Arista press kit described it as "a cautionary tale about the loss of individualism."
Sirius instrumental (1:53)

Eye In The Sky vocal: Eric Woolfson (4:36)

Children Of The Moon vocal: David Paton (4:51)

Gemini vocal: Chris Rainbow (2:11)

Silence And I vocal: Eric Woolfson (7:22)

You're Gonna Get Your Fingers Burned vocal: Lenny Zakatek (4:23)

Psychobabble vocal: Elmer Gantry (4:51)

Mammagamma instrumental (3:34)

Step By Step vocal: Lenny Zakatek (3:53)

Old And Wise vocal: Colin Blunstone (4:54)
Personnel:
Bass: David Paton

Drums and Percussion: Stuart Elliott

Acoustic and Electric guitars: Ian Bairnson

Keyboards: Eric Woolfson, Alan Parsons

Fairlight Programming: Alan Parsons

Sax: Mel Collins

Vocals: Eric Woolfson, David Paton, Chris Rainbow, Lenny Zakatek, Elmer Gantry, Colin Blunstone, The English Chorale

Chorus Master: Bob Howes

Orchestral Contractor: George Harris

Orchesta and Choir Arranged and Conducted by Andrew Powell
---
This page, copyright 2002 The Avenue / Avenue Communications.