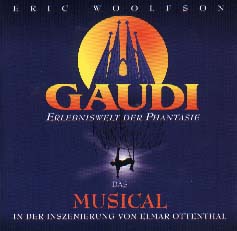 ERIC WOOLFSON
Gaudi
The "Gaudi" musical was staged in Germany at the Euro Musical Hall, the dialogue and the words for the music were performed in English. This cast disc was released in 1995 by WEA (0630-10289-2) and is currently out of print.
What Are You Going To Do Now? (5:42)

Money Talks (5:57)

Closer To Heaven (4:40)

Standing On Higher Ground (3:48)

Tango Guell (3:37)

Parca Guell (5:54)

Puppet Master (6:14)

Inside Looking Out (4:26)

Work Song (2:55)

Too Late (5:19)

Forbidden Fruit (6:52)

Lonely Song (Love Can Be Lonely Too) (6:19)

La Sagrada Familia (8:19)




lyrics for these tracks not on line
---
This page, copyright 2002 The Avenue / Avenue Communications.