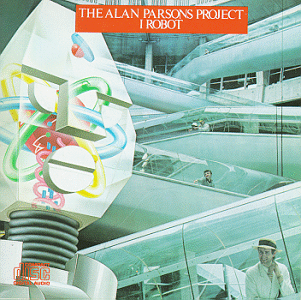 The Alan Parsons Project
I Robot
This album was originally released by Arista Records in 1977.
From the album notes:
I Robot...
The story of the rise of machine and the decline of man,

which paradoxically coincided with his discovery of the wheel...

And a warning that his brief dominance of this planet will

probably end, because man tried to create robot in his own image.
I Robot instrumental (6:02)

I Wouldn't Want To Be Like You vocal: Lenny Zakatek (3:22)

Some Other Time vocal: Peter Straker and Jaki Whitren (4:06)

Breakdown vocal: Allan Clarke (3:50)

Don't Let It Show vocal: Dave Townsend (4:24)

The Voice vocal: Steve Harley (5:24)

Nucleus instrumental (3:31)

Day After Day (The Show Must Go On) vocal: Jack Harris (3:49)

Total Eclipse instrumenal (3:09)

Genesis Ch. 1 v. 32 instrumental (3:28)
Personnel:
Bass: David Paton

Drums and Percussion: Stuart Tosh

Electric guitars: Ian Bairnson

Acoustic Guitars: Ian Bairnson, David Paton, Alan Parsons

Keyboards: Eric Woolfson, Duncan Mackay, Alan Parsons

Steel Guitar: B.J. Cole

'Projectron' and Vocoder: Eric Woolfson, Alan Parsons

Cimbalom and Kantele: John Leach

Vocals: Allan Clarke, Steve Harley, Jack Harris, Peter Straker and Jaki Whitren, Dave Townsend, Lenny Zakatek.

Additional vocals: Hilary Western, Smokey Parsons, David Paton, Stuart Tosh, Ian Bairnson, Tony Rivers, John Perry, Stuart Calver, Eric Woolfson, Alan Parsons, The English Chorale and the New Philharmonia Chorus.
---
This page, copyright 2002 The Avenue / Avenue Communications.