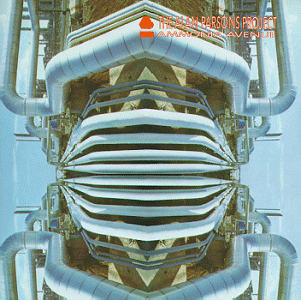 The Alan Parsons Project
Ammonia Avenue
This album was originally released by Arista Records in 1984. The title track was inspired in part by a Petro-Chemical plant in Middlesborough, England.
Prime Time vocal: Eric Woolfson (5:03)

Let Me Go Home vocal: Lenny Zakatek (3:20)

One Good Reason vocal: Eric Woolfson (3:36)

Since The Last Goodbye vocal: Chris Rainbow (4:34)

Don't Answer Me vocal: Eric Woolfson (4:11)

Dancing On A Highwire vocal: Colin Blunstone (4:22)

You Don't Believe vocal: Lenny Zakatek (4:26)

Pipeline instrumental (3:56)

Ammonia Avenue vocal: Eric Woolfson (6:30)
Personnel:
Bass: David Paton

Drums and Percussion: Stuart Elliott

Acoustic and Electric guitars: Ian Bairnson

Keyboards: Eric Woolfson

Fairlight Programming: Alan Parsons

Sax: Mel Collins

Vocals: Eric Woolfson, Chris Rainbow, Lenny Zakatek, Colin Blunstone

The Philharmonia Orchestra Leader: Christopher Warren-Green

Orchesta Arranged and Conducted by Andrew Powell
---
This page, copyright 2002 The Avenue / Avenue Communications.