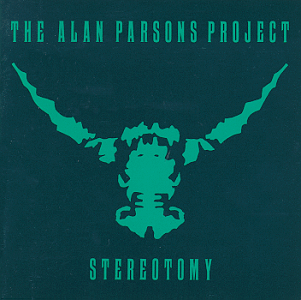 The Alan Parsons Project
Stereotomy
This album was originally released by Arista Records in 1986. The word Stereotomy comes from Poe's "The Murders in the Rue Morgue". Eric thought that the word itself had quite a rock 'n' roll sound. I'd have to agree.
The title "Where's The Walrus" was influenced by their old friend Mr. Laser Beam. He was commenting on their previous efforts "Ammonia Avenue" and "Vulture Culture" and accused the band as having gone flat. "Where's the Walrus?" he asked, meaning, where are the classic songs like The Beatles' "I am The Walrus". Where is it? On this album.
Stereotomy vocal: John Miles (7:15)

Beaujolais vocal: Chris Rainbow (4:27)

Urbania instrumental (4:34)

Limelight vocal: Gary Brooker (4:39)

In The Real World vocal: John Miles (4:17)

Where's The Walrus? instrumental (7:34)

Light Of The World vocal: Graham Dye (6:22)

Chinese Whispers instrumental (1:02)

Stereotomy Two vocal: John Miles (1:18)
Personnel:
Bass: David Paton

Drums and Percussion: Stuart Elliott

Guitars: Ian Bairnson

Synths and Saxes: Richard Cottle

Pianos: Eric Woolfson

Vocals: John Miles, Chris Rainbow, Gary Brooker, Graham Dye, Steve Dye, Eric Woolfson

Orchestra Arranged and Conducted by Andrew Powell

The Philharmonia Orchestra: Leader Christopher Warren-Green
---
This page, copyright 2002 The Avenue / Avenue Communications.