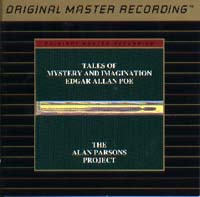 The Alan Parsons Project
Tales of Mystery and Imagination (1976)
This ground-breaking album was originally released by 20th Century Records in 1976. The theme of this album is inspired by he works of Edgar Allen Poe. Recently the original version of this album was released on CD by Mobile Fidelity.
A Dream Within A Dream instrumental (3:43)

The Raven vocal: Alan Parsons (EMI vocoder), Leonard Whiting (4:01)

The Tell-tale Heart vocal: Arthur Brown (4:40)

The Cask of Amontillado vocal: John Miles (4:29)

(The System Of) Doctor Tarr and Professor Fether vocal: John Miles (4:15)

The Fall of the House of Usher instrumental

I Prelude (5:51)

II Arrival (2:36)

III Intermezzo (1:06)

IV Pavane (4:44)

V Fall (1:07)

To One In Paradise vocal: Terry Sylvester (4:14)
Personnel:
Bass: David Paton, Joe Puerta

String Bass: Darryl Runswick

Drums: Stuart Tosh, Burleigh Drummond

Guitars: Ian Bairnson, David Paton, David Pack, Alan Parsons

Keyboards: Billy Lyall, Christopher North, Eric Woolfson, Andrew Powell, Francis Monkman, Alan Parsons

Cimbalom and Kantele: John Leach

Vocals: John Miles, Arthur Brown, Alan Parsons, Terry Sylvester, Leonard Whiting, Jack Harris, Eric Woolfson, Jane Powell, Smokey Parsons, David Paton, Stuart Tosh, and The English Chorale.
---
This page, copyright 2002 The Avenue / Avenue Communications.