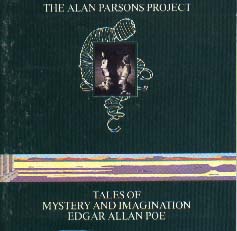 The Alan Parsons Project
Tales of Mystery and Imagination (1987)
From the time of its initial release, "Tales" had been re-released many times with different cover artwork on different formats from vinyl and cassette to the dreaded 8-track. But even up to the mid-eighties this record had not been put on CD. When the time came, Alan took the high-road and instead of just slapping it into a jewel case, he went back into the studio and remastered this classic album.
A Dream Within A Dream instrumental (4:13) [with narration by Orson Welles]

The Raven vocal: Alan Parsons (EMI vocoder), Leonard Whiting (3:57) [new guitar solo: Ian Bairnson]

The Tell-Tale Heart vocal: Arthur Brown (4:38)

The Cask of Amontillado vocal: John Miles (4:33) [new snyths: Alan Parsons]

(The System Of) Doctor Tarr and Professor Fether vocal: John Miles (4:20) [new "Cathedral Organ": Alan Parsons]

The Fall of the House of Usher instrumental

I Prelude (7:02)

II Arrival (2:39)

III Intermezzo (1:00)

IV Pavane (4:36) [new synth: Eric Woolfson]

V Fall (0:51)

To One In Paradise vocal: Terry Sylvester (4:46)
Personnel:
Bass: David Paton, Joe Puerta

String Bass: Darryl Runswick

Drums: Stuart Tosh, Burleigh Drummond

Guitars: Ian Bairnson, David Paton, David Pack, Alan Parsons

Keyboards: Billy Lyall, Christopher North, Eric Woolfson, Andrew Powell, Francis Monkman, Alan Parsons

Cimbalom and Kantele: John Leach

Vocals: John Miles, Arthur Brown, Alan Parsons, Terry Sylvester, Leonard Whiting, Jack Harris, Eric Woolfson, Jane Powell, Smokey Parsons, David Paton, Stuart Tosh, and The English Chorale.
---
This page, copyright 2002 The Avenue / Avenue Communications.