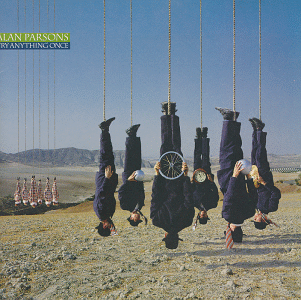 ALAN PARSONS
Try Anything Once
After Eric chose to leave to work in musical theatre, Alan (with the encouragement of Ian Bairnson and Stuart Elliott) chose to continue making albums. Alan re-united some old friends, along with some new ones, and made his first solo album, which was originally released by Arista Records in 1993. And the theme of the album? There isn't one.
It would never be the same from this point, but then it was the beginning of a new era
The Three Of Me vocal: David Pack (5:32)

Turn It Up vocal: Chris Thompson (6:13)

Wine From The Water vocal: Eric Stewart (5:43)

Breakaway instrumental (4:07)

Mr. Time vocal: Jacqui Copland (8:17)

Jigue instrumental (3:24)

I'm Talking To You vocal: David Pack (4:38)

Siren Song vocal: Eric Stewart (5:01)

Dreamscape instrumental (3:01)

Back Against The Wall vocal: Chris Thompson (4:38)

Re-Jigue instrumental (2:28)

Oh Life (There Must Be More) vocal: David Pack (6:34)
Personnel:
David Pack: vocals, synths, guitars

Stuart Elliott: drums, synths

Andrew Powell: bass, synths, electric piano, autoharp, piano

Ian Bairnson: guitars, bass, synths, harmony guitars, pedal steel, backing vocals

Alan Parsons: synths, bass, acoustic guitars, flute, backing vocals

Richard Cottle: sax, synths

Chris Thompson: vocals

Eric Stewart: vocals

Jacqui Copland: vocals, backing vocals

Graham Preskett: violins, fiddle, mandolin

Jeremy Parsons: guitars

Vocals: David Pack, Chris Thompson, Eric Stewart, Jacqui Copland

The Philharmonia Orchestra arranged and conducted by Andrew Powell
---
This page, copyright 2002 The Avenue / Avenue Communications.