Welcome to Millenia!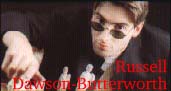 Fans of Alan Parsons are probably wondering, what does Millenia have to do with Alan Parsons?
The first thing is that the band was influenced and inspired by the music of Alan Parsons. Paul and Russ have grown up listening to the music of The APP, and consequently that has crept into the music they have created.
More importantly Alan has taken a great deal of interest in this up and coming band. In 1997, Paul and Russ were able to meet Alan and played their CD for him. He was pleased with what he heard, and in issue of nine of The Avenue was quoted as saying, "I was impressed. I thought they were on the right track and that they had some good songs there. I would say they are looking for an audience that might be my kind of audience".
Since then, Alan has expanded his interest in the band, and has now decided to be the Executive Producer of their next album. In issue 10 of The Avenue, Alan spoke of these plans and said, "there's a way to go with that. I am battling with trying to find enough hours in the day to get everything crammed in. It will be at least the summer before anything is released. They're great guys and they are very determined."
Currently Millenia has changed their name to Iconic Phare, and will record their next album with Alan under that name. Today you can hear the album that inspired Alan to join forces with these talented gentleman.
If you've been looking for a new band that performs the kind of music you love; then the last few years have probably been a fruitless search. Now the search is over, and the exciting part is that you can be part of the roots of this band! Experience the progress and development of this band as it unfolds and start today with "Thinking Rock".
---
Back to the Iconic Phare page
Back to The Avenue Online Home Page
This page, copyright 2002 The Avenue / Avenue Communications.