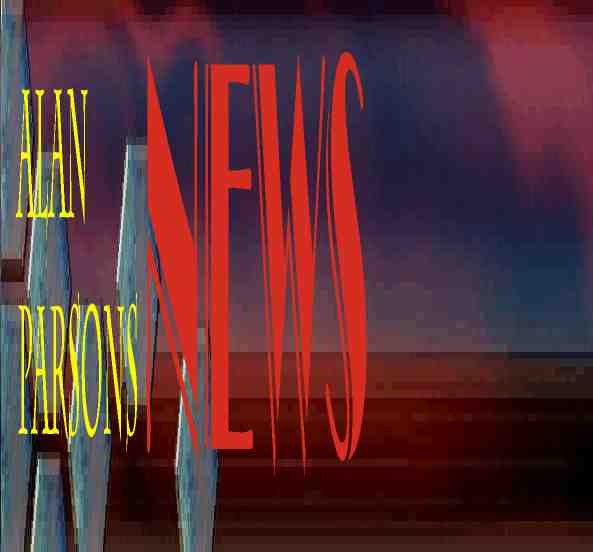 Alan Parsons -- Current News
Updated: April 7, 2015
THE AVENUE on Facebook
(April 7, 2015) Good news for Facebook users. You can now follow The Avenue on a new group
TOURING NEWS
(April 7, 2015) Some of the APP/APLP alumni are all hitting the road:
Steve Harley has reunited original Cockney Rebel members for the 'Best Years Of Our Lives' 40th Anniversary tour. APP fans know Steve Harley for his vocals on "The Voice", but also because Alan produced Harley's (Come Up And See Me) Make Me Smile. For the first time since 1976, Harley will be joined by Jim Cregan (guitar), Stuart Elliott (drums) and Duncan Mackay (keyboards). Of course we all remember Stuart Elliott on many APP albums, plus the AP solo records and many APLP tours, but it's also great see Duncan Mackay back on the road. Duncan played keyboards on three APP albums (I Robot, Pyramid and Eve). This once in a lifetime even hits the UK November 2015. Tour dates are here.
Al Stewart's biggest hits "Year of the Cat" and "Time Passages" were both produced and engineered by Alan Parsons. UK tour dates will also include special guest Tim Renwick. Tim played guitar on the early Al Stewart albums. On May 16 & 22, the tour stops at The Royal Albert Hall in London. Those two shows have a full band including Renwick, Peter White and Stuart Elliott. Tour dates are here.
John Miles will be performing at the Night of the Proms again this year. John has been a fan favourite at the Proms, playing his solo hits and and singing some APP tunes as well. The Proms is coming to Europe in November/December 2015. Tour dates are here.
The Zombies (featuring Colin Blunstone) currently has one show scheduled. They will be appearing at Union Chapel in London on May 1st, 2015. This show will be an acoustic set with Colin and Rod Argent. Tour dates are here here.
Happy Together Tour This 1960's themed tour has been rolling across America for many summers. The tour features The Turtles ("Happy Together"), The Association ("Cherish", "Never My Love"), The Cowsills ("Hair") and more. The connection to Alan Parsons? The house band includes APLP alumni Godfrey Townsend (guitars), Steve Murphy (drums) and Manny Focarazzo (keyboards)! Tour dates are here.
LIVESPAN - New Live Album
(March 15, 2015) In March 2013, Alan Parsons toured Germany and Austria and each night they wowed packed houses. Now you can relive those fantastic nights with a set entitled LiveSpan, which was recorded over two sold out nights in the Beethoven Halle in Stuttgart, Germany. The 2-CD set covers all the greatest hits of The Alan Parsons Project. A special treat for fans is the entire suite of "The Turn Of A Friendly Card", which has never been released on any previous live collcetion.
Download the album at iTunes, or buy the phsical 2-CD set at Amazon or MFP Concerts.
CHRIS RAINBOW - Passing of a legend
(Feb. 27, 2015) It's with sad news that we report that Chris Rainbow has passed at the age of 68 on Feb. 25, 2015 after a long battle with Parkinson's Disease.
Chris was born on Nov. 18, 1946 as Christopher James Harley; he'd later take on the name Rainbow because he didn't want any confusion with Steve Harley. Steve was quite popular at the time, and ironically was working with Alan Parsons.
Most of us probably first heard Chris either through his solo albums, or performing vocals on many songs for The Alan Parsons Project.
Over the years he'd go on to work with Jon Anderson, Culture Club, Camel, Panorama, Runrig, Wolfstone, Donnie Munro. Chris was a unique voice in the music scene and will be missed greatly.
Alan Parsons' said "It was with great sadness that I read today of the passing of Chris Rainbow. He was an amazing talent and an integral part of The Project sound. Eric and I used to call him the "One Man Beach Boys". I will always remember his funny stories, his mimicking ability, and his hilarious catch phrases. Sessions with him were always filled with laughter. I will miss him greatly."
Runrig (whose albums "Cutter and the Clan" and "Heartland" were produced by Mr Harley) published the following statement on their website: "We were all shocked and saddened to hear yesterday of the death of friend, colleague and former record producer Chris Harley. Chris was a major part of the Runrig story, producing the breakthrough albums through the eighties and early nineties. In his capacity as producer, he was instrumental in helping to create the sound of the band. Chris was held in deep affection by all associated with Runrig and his passing will be keenly felt. He passed away peacefully at his home on the Isle Of Skye, after a long debilitating illness. He is survived by his wife Ibby and son Lewis, and our thoughts and prayers go out to them at this difficult time."
Donnie Munroe (past member of Runrig; Donnie also had solo albums produced by Mr Harley) said: "I feel deeply privileged personally to have been able to work with Chris over so many years, both in my Runrig days, on my own solo recording projects and the many memorable live performances with the full band, of which Chris was such a key part and the irreplaceable catalyst that just made everything work. Chris enjoyed the enormous respect and love of all the musicians around him and he will be desperately missed by us all. On a personal level, Chris was a wonderful gentle friend, a great inspiration and mentor to me and like the many others who were privileged to have known him, I will miss him hugely."
LENNY ZAKETEK - New Album
(Feb. 26, 2015) Lenny Zakatek is recording an album of rare love songs, a collection of soul classics. It would be great to have another album of music from Zakatek and get to hear his vocals again.
Best of all, you the fans can help make this happen! Zakatek is running a crowd-sourcing campaign at PledgeMusic. For a minimum donation of 18 GBP (about 28 USD) you'll receive a personalized copy of Lenny's album on CD, signed by the man himself! You can even consider that as just pre-ordering the album, with the added benefit of helping get this album made. There are also some other great options available for higher donations.
The great thing about crowd-sourcing is that it gives the fans the opportunity to get the music they want. The industry keeps giving us Lady Gaga and Ariana Grande; so this gives us the chance to push for the music we really want.
The good news is that 76% of the goal has already been met, but there's only a month left to participate. So let's get out there and help make this happen!
(April 7, 2015) Update: Lenny has met his goal. Thanks to everyone who helped get this to the finish line.
BOOK ABOUT THE ALAN PARSONS PROJECT
(Feb. 25/2015) Over the years there have been a few false starts in efforts to get a book about The Alan Parsons Project published. Finally it looks like the wait will be over!
This new book will be published in Italian and is written by Francesco Ferrua. Francesco is a lifelong APP fan; having been involved with Fan Days in Italy, and a long-time Avenue subscriber. He will definitely bring that passion for the subject to the page.
Francesco adds: With a lot of joy, satisfaction and not without emotion, I announce you the imminent release of what has been my secret wish for years: on March 11, 2015 the Italian publisher Arcana (Lit Edizioni) will publish the first book in the world about The Alan Parsons Project.
Titled "L'Occhio Nel Cielo" ("The Eye In The Sky") it's composed of more than 330 pages, in Italian language only, through which you are told not only the fruits of the alchemy born by the meeting between Woolfson and Parsons, but also the events of Eric and Alan pre and post Project. Enriched by exhaustive appendixes in which all their recordings products are chronologically listed (mainly as engineer/producer/artist for Alan and as songwriter/producer for Eric), the book leads you through an extremely fascinating universe. And it does it through the voice of the same protagonists, thanks to a careful job of search in the vast body of the interviews conducted through the years, not only with Eric and Alan but also with their main collaborators. I forgot to say that I am the author of the book. I hope that my initiative could meet your enthusiasm and could finally fill that publishing void (by now in Italian language only, but who knows) that, inexplicably, up until now surrounded The Alan Parsons Project. If you are able to read Italian, I hope you'll enjoy my book. Otherwise, if you like my idea but you are not able to read Italian, please make some kind of noise and let hear your voice. If we feel a worldwide potential, maybe we could plan an English translation of the book for a worldwide release. "You read the book, you turn the page, you change your life in a thousand ways."
ROLLING STONE ARTICLE
(Feb. 16/2015) Rolling Stone recently ran a story with this headline: "Roger Waters, Alan Parsons Spar Over Israel Concerts". Waters had contacted Parsons and asked Alan to cancel his show in Tel Aviv.
Quoted in the article: Parsons, who identified himself as Waters' colleague, politely declined the Wall singer's request. "I appreciate your note and your passion," he wrote. "However, this is a political matter and I am simply an artist. I create music; that is my raison d'être. Everyone – no matter where they reside, what religion they follow or what ideology they aspire to – deserves to hear it if they so choose. Music knows no borders, and neither do I."
True to his word, Alan continued on and brought his music to the fans in Israel.
Full article online at: Rolling Stone.
DAVID PACK - NAPA CROSSROADS
David Pack has a brand new album called Napa Crossroads. The fourteen track album is loaded with an impressive list of guest artists including: The Doors' Ray Manzarek, Bela Fleck, Todd Rundgren, David Benoit, Billy Dean, Jimmy Wayne, Larry Carlton ... and best of all: Alan Parsons!
It's great to have David Pack deliver a new album with a ll the style we've grown to expect from him.
Press kit and more info at Concord Music. Download the album at iTunes, or buy the CD at Amazon.
"Fragile" Single
Alan Parsons has released another single called "Fragile". The physical single has three tracks:
Fragile
Fragile (Radio Edit)
Luciferama (live - taken from LIVE SPAN Album)
Download the main track at iTunes, Amazon,. You can also buy the phsical 3-trackCD sigle at Amazon UK
APP BOX SET
(Feb. 16/2014) Coming March 31, 2014, a new Box Set is coming.
"The Complete Albums Collection" will bring together the first ten APP albums ("Tales" to "Gaudi"), plus the first time ever release of "The Sicilian Defence".
"The Sicilian Defence" is an unreleased album from the late 1970s. After The Alan Parsons Project released "Pyramid", they were approaching a point in their contract which called for the 3rd and 4th albums to be delivered by a certain date. They recorded two albums, "Eve" and "Sicilian Defence" and delivered them at about the same time. "Eve" of course was released. However, Arista was so disappointed with the quality of "Sicilian Defence" that they locked the master in the vault and since then it has not seen the light of day. The title comes from the game of chess. The "Sicilian Defence" is a classic series of moves. In a way, this was the APP's moves in response to that contract.
When "Eve" was remastered and released in 2008, the bonus track "Elise's Theme" was the first time a track from Sicilian Defence had been heard. Now the rest of the album will finally be available.
The box set will also include a 28 page booklet with rare photographs
I ROBOT - 35th ANNIVERSARY EDITION
(Feb, 16/2014) The I Robot Legacy Edition 2-disc set was released September 17, 2013. Disc One is the ten-track album we have come to know and love. Disc 2 has 14 bonus track. Five of these outtakes and extras appeared on the 2007 remaster edition.
The complete list of extras is here:
1. U.S Radio Commercial for I Robot 1:01
2. I Robot (Boules Experiment) 1:59
3. I Robot (Hilary Western Vocal Rehearsal) 1:32
4. Extract 1 from The Alan Parsons Project Audio Guide 1:04
5. Extract 2 from The Alan Parsons Project Audio Guide 0:57
6. I Wouldn't Want to Be Like You (Backing Track Rough Mix) 3:29
7. Some Other Time (Complete vocal by Jaki Whitren) 3:44
8. Breakdown (Early Demo of Backing Riff) 2:09
9. Extract 3 from The Alan Parsons Project Audio Guide 0:31
10. Breakdown - The Choir 1:51
11. Don't Let It Show (Eric Woolfson Demo) 3:26
12. Day After Day (The Show Must Go on) (Early Stage Rough Mix) 3:38
13. Genesis Ch.1. V.32 - Choir Session 2:18 14. The Naked Robot (Early Stage Instrumental Mixes) 10:20
Three tracks come from "The Alan Parsons Project Audio Guide"; that was a promotional box set released by Arista back in 1980. The legacy edition includes a new CD booklet, with some rare pictures and new liner notes written by Alan Parsons.
STORM THORGERSON PASSES
(April 22/2013) This time we start off with some sad news: on April 18, 2013 Storm Thorgerson, the artist behind most of the covers for Alan Parsons, has passed away at the age of 69 after a battle with cancer.
Besides the AP covers, he did covers for Peter Gabriel, Styx, Pink Floyd and so many more. He was also involved with videos including Yes' "Owner of a Lonely Heart".
So much of his work became iconic: from the prism on "Dark Side of the Moon" to the floating pig on "Animals". Storm's covers are great part of what we all think of when we think of album artwork, and his work will live on long past him.
SOMEWHERE IN THE AUDIENCE
(April 22/13) There is a new Eric Woolfson album available. "Somewhere In The Audience" is a tribute album to the late great song writer, with a number of singers performing songs that Eric wrote for musical theatre.
The performers on the album are:
Steve Balsamo - Poe / Jesus Christ Superstar
Anna-Jane Casey - Chicago / Spamalot (and TV's EastEnders)
Sharon D. Clarke - We Will Rock You / Ghost
Jacqui Dankworth - "As The Sun Shines Down On Me" album / Les Misérables (movie)
Louise Dearman - Wicked / "Here Comes the Sun" album
Pia Douwes - Elisabeth / Chicago / Cats
Ben Forster -  Jesus Christ Superstar / The Rocky Horror Show
James Fox - Movin' Out / Chess / played Paul McCartney in The Beatles tribute show Let it Be 
Gareth Gates - Les Misérables / Legally Blonde / Boogie Nights
Tim Howar - Rent / Rock of Ages / "Last Chance Harvey" (2008 film)
Jon Lee - S Club 7 /  Jersey Boys / Aladdin
Oliver Tompsett - Wicked / Rock of Ages / We Will Rock You
"Somewhere In The Audience" is available now at Amazon.com. If you order direct from the offiicial APP site, you will also receive a digital download bonus track: Eric Woolfson singing a demo version of 'Lonely Song' from his GAUDI musical.
JAKE SHIMABUKURO
(April 22/13) Alan Parsons continues his return to his roots by producing another album. "Grand Ukulele" by Jake Shimabukuro is what it sounds like - Jake is a ukulele virtuoso from Hawaii. The new album contains cover versions of everything from traditional songs to tunes like "Somewhere Over The Rainbow" and "Field of Gold" (the Sting tune). Available now at Amazon.com
5-25-77 MOVIE
(Feb. 21/13): A long time ago in a galaxy far, far away I began telling tale of a movie that Alan Parsons would be doing the music for. Now let's hop in our Starfighter and lightspeed to the present for an update.
The movie, 5-25-77, written and directed by Patrick Read Johnson, is in essence a coming of age story about a teen growing up in a small town dealing with his lifelong dream to make movies while battling all the pressures of family, school and teen life. Will he leave everything behind and achieve his dreams in Hollywood, or will he abandon it all and resign himself to a life working at a factory?
The movie is a mix of comedy and drama and stars John Francis Daley (Bones, Freaks and Geeks), Austin Pendleton (My Cousin Vinny, The Muppet Movie, Sgt. Bilko), Colleen Camp (Police Academy 2&4, Clue, Die Hard With A Vengeance), andNeil Flynn (Scrubs, The Middle).
An unfinished version was recently screened in Toronto at the Next Wave Film Festival. The principle photography is complete; the main thing left to be finished is post-production work (resolution, aspect ratio, effects) and getting clearance for the music. Patrick has indicated that there is interest from distributors who would like to get this movie out. However, as an independent film maker, they require that he deliver the movie finished and ready to go.
On the topic of music, the current soundtrack has some great 1970s music. There are also some familiar Alan Parsons pieces including "Genesis Ch. 1 v. 32" (I Robot), a track from "Ladyhawke", "Blue Blue Sky 2" and an instrumental version of "Too Close To The Sun" (both originally from On Air).
In Toronto, after the movie and a Q&A, the audience was also shown a trailer for a documentary called Hearts of Dorkness. The documentary is a look at the making of 5-25-77 and also the "Hearts of Dorkness Tour" which saw Patrick Read Johnson travel around America in a 1975 Ford Pinto showing rough cuts of the movie to test audiences. He was also trying to generate awareness about the film and raise money to help get the movie finished. This movie needs to be finished.
If you'd like to help, donations are being accepted - no amount is too small; every bit helps get the Pinto closer to Hollywood!
More info on Hearts of Dorkness.
More info on 5-25-77:
ALAN PARSONS PRODUCED TRACK "BELMONTE"
(Feb. 21/13): On May 26, 2012 Alan Parsons conducted one of his Master Class training sessions at Noble Street Studios in Toronto.
The all-day training session covered the recording of a track for the band The David Barrett Trio. The day started with Alan hearing the band's demo version of the song and discussing what direction they'd like to take with it. After discussing microphone selections, placement and preparing the live floor, recording began. At the end of the day, participants got to hear the final mix compared with the original demo.
So, what happened to that track? Well, it's out now as part of the band's new album. The album was produced by Rush's Alex Lifeson, Richard Chycki, and DB3; while the track "Belmonte" was produced & engineered by Alan Parsons.
The track is available and album is available on iTunes.
You can also see Alan in the studio playing back the track. The gentleman who is seen standing behind him (at 1:00) is vocalist Paul Reid.
Credits for the track "Belmonte"
DB3 are…
David Barrett: Six and twelve string acoustic and electric guitars, laud, mandolin and steel.
Jason Farrar: Bass guitars, Moog Taurus
Alexander 'Sascha' Tukatsch: Drums and percussion
With guests
Vocals: Paul Reid
Keys: Douglas Romanow
(April 22/13) Here's a chance to hear the whole track and see still pictures from the day it was recorded - right from the beginning to photos at the end taken during the after party.
CLIVE DAVIS AUTOBIOGRAPHY
(Feb. 21/13): The Autobiography of Clive Davis was released February 19, 2013.
The Soundtrack of My Life looks back at a music career that spanned decades and saw the launch of careers of countless artists. After being fired from CBS Records, Clive formed Arista Records in 1975. He signed The Alan Parsons Project to Arista in 1977 and "I Robot" was the first of a long string of albums at the label. In the book, Clive spends a few pages talking about the APP, which is not surprising consider that APP was one of the early acts signed to Arista, but was also another notch of success! Clive definitely had a knack for picking a winner, and APP fans have to be grateful he had the wisdom to support Alan Parsons and Eric Woolfson.
(April 22/13) On the part about APP, Alan has said "I found the APP section quite complimentary. Clive never told me the Spielberg story - interesting." In the book Clive says he tried to have Spielberg let APP do the soundtrack for Close Encounters of the Third Kind.
Also interesting is that Close Encounters is what inspired director Patrick Reed Johnson - had Alan done the music, it would have added a special twist to Alan doing the music on 5-25-77.
ALAN PARSONS LIVE
(Feb. 20/13): The "Greatest Hits Tour 2013" will take Alan and the band around the USA, Mexico and Europe. Dates continue to be added, and the latest addition is a booking at the Rock of Ages festival in Germany which will take place the summer on July 26&27. Check the Tour Dates page for this and other live dates.
NEW SONG!
(July 10/10): A brand new single called "All Our Yesterdays" is out now. Also available is the new song "Alpha Centauri". Right now it's not available on physical media but can be bought as a download at iTunes. You can also see the brand new video on YouTube. The song and video are a spin-off of a documentary project that Alan has been working on.
NEW PROJECT
(July 11/10): The Art And Science Of Sound Recording. It's a multi-part documentary all about making music. While this is probably more geared to people in the industry, it's worth checking out the their websitewebsite. Register at their website and see the intro for free!
Who better to do a documentary on that topic, right? After seeing the Q&A at Canadian Music Week, it's definitely something people in the industry would love to have in their reference library. .
THE PASSING OF A PROGRESSIVE ROCK LEGEND
(December 2/09): It is with great sadness that I pass on the news that Eric Woolfson died on 3AM, December 2, 2009 in London. Despite his battle with cancer, he never quit moving ahead. In fact he'd just been working with Haydn Bendall on a new arrangement for 'Nothing Can Change My Mind' (part of a new version of the Gaudi musical).
I am sad that we won't get to see and hear what Eric would have done in the future. Somehow I think if he'd lived to be 195 that Eric would still be dreaming and creating. Much like Gaudi's La Sagrada Familia, the songbook of Eric Woolfson will never be completed.
While the world will probably remember Eric for his partnership in The Alan Parsons Project, he spent an even longer time in the world of musical theatre - it's a pity he never got the recognition he deserved.
I was trying hard to think of something poignant to say, but I think Eric said it best himself in so many songs - he was indeed was one of the best lyric writers ever. -Steve Martin
The new version of the TheAvenueOnline website is now open. To access it, go to the Entrance page, and click on the door. The new site is best seen with display set to1024x768, and frames are in use. There's all kinds of extra information and graphics in the new area: News Archive, more biographies, fun in the Fanzone, and much more!
---

Back to The Avenue Home Page
This page, copyright 2014 The Avenue / Avenue Communications.