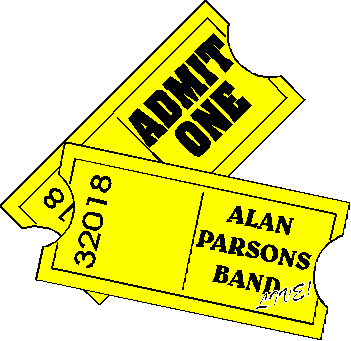 Alan Parsons
"LIVE" Tour 1995
Tour of the United States and Mexico:
JULY 20 MEXICO CITY Palacio de los Deportes

JULY 22 MONTEREY Teatro Fudidora

JULY 25 SANTA FE, NM Paolo Soleri

JULY 26 PHOENIX, AR Symphony Hall

JULY 27 TUCSON, AZ TCC Music Hall

JULY 28 LOS ANGELES, CA Greek Theatre

JULY 29 SAN DIEGO, CA Ocean Side Amphitheatre

JULY 30 LAS VEGAS, NV Alladin Theatre

AUG. 1 DENVER, CO Temple Buell Theatre

AUG. 3 MINNEAPOLIS, MN Orpheum Theatre

AUG. 4 CHICAGO, IL Riviera Theatre

AUG. 5 MILWAUKEE, WI Riverside Theatre

AUG. 9 CLEVELAND, OH Nautica Stage

AUG. 11 UNION CITY, MI Turtle Lake

AUG. 12 ST. LOUIS, MO American Theatre

AUG. 13 NASHVILLE, TN TPAC Jackson Hall

AUG. 15 NEW YORK CITY Beacon Theatre

AUG. 16 PITTSBURGH, PA I.C. Light Amphitheatre

AUG. 17 COLUMBIA, MD Merriweather Post

AUG. 18 DARIEN CENTRE, NY Darien Lake

AUG. 19 PHILADELPHIA, PA Tower Theatre

AUG. 21 LOUISVILLE, KY Palace Theatre

AUG. 22 INDIANAPOLIS, IN Clowes Hall

AUG. 23 CLARKSTON, MI Pine Knob

AUG. 24 CINCINNATI, OH Riverbend Music Theatre

AUG. 25 ATLANTA, GA Atlanta Civic Centre

AUG. 26 ORLANDO, FL Bob Carr Aud.

AUG. 27 MIAMI, FL Sunrise
Tour of the Europe and South America:
SEP. 16 PALMA, MALLORCA Plaza De Toros

SEP. 18 BARCELONA, SPAIN Zeleste

SEP. 19 MADRID, SPAIN La Riviera

SEP. 21 OVIEDO, SPAIN Bullring

SEP. 23 VALENCIA, SPAIN Auditorium Arena

SEP. 24 UBEDA, SPAIN Poli De Portivo San Miguel

OCT. 06 VISP, SWITZERLAND BJ Harvest Festival

OCT. 08 THE HAGUE, HOLLAND Congressgebouw

OCT. 09 GRONINGEN, HOLLAND Oosterpoort

OCT. 10 UTRECHT, HOLLAND Music Centre

OCT. 11 ENSCHEDE, HOLLAND Music Centre

OCT. 12 NIJMEGEN, HOLLAND Vreeniging

OCT. 14 ZARAGOSA, SPAIN Sala Multiusos

OCT. 21 SANTIAGO, CHILECourt Centrale Estadio

OCT. 24 SAO PAULO, BRAZIL The Palace

OCT. 25 SAO PAULO, BRAZIL The Palace

OCT. 26 RIO DE JANEIRO, BRAZIL The Metropolitan

OCT. 27 CURITIBA, BRAZIL Theater Guaira

OCT. 28 RIO DE JANEIRO, BRAZIL Ipanema Beach
Personnel:
ALAN PARSONS: Guitar, vocal, keyboards, percussion, woodwind

IAN BAIRNSON: Guitars

RICHARD COTTLE: Keyboards, saxophone

STUART ELLIOTT: Drums

PETER BECKETT: Vocals, keyboards

FELIX KRISH: Bass

ANDREW POWELL: Keyboards

CHRIS THOMPSON: Vocals, percussion, guitar
---

Back To The Tour Date Menu
This page, copyright 1998 The Avenue / Avenue Communications.