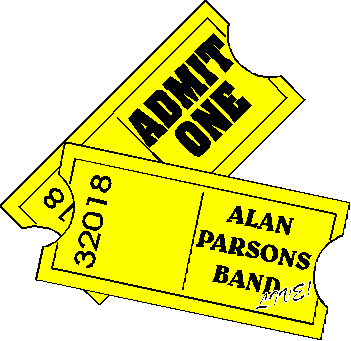 Alan Parsons
"ON AIR" Tour 1997
Tour of South America, Asia and Europe:
APR04 SANTIAGO, CHILE Estadio Chile

APR05 BUENOS AIRES, ARGENTINA Gran Rex

APR06 BUENOS AIRES, ARGENTINA Gran Rex

APR08 PORTO ALEGRE, BRAZILOpiniao

APR10 CURITIBA, BRAZIL Forum

APR11 BELO HORIZONTE, BRAZIL Minas Centro

APR12 BRASILIA, BRAZILTeatro National

APR13 SANTO ANDRE, BRAZIL Clube Ateltico Aramacan

APR14 SAO PAULO, BRAZIL Olympia

APR15 SAO PAULO, BRAZIL Olympia

APR18 RIO DE JANEIRO, BRAZIL Metropolitan

MAY06 PARIS, FRANCE Zenith

MAY07 ROTTERDAM, HOLLAND Ahoy

MAY09 LONDON, ENGLAND Sheperds Bush Empire

AUG09 GUADARRAMA, SPAIN Camp De Futbol

AUG10 EL FERROL, SPAIN Parque Reina Sofia

AUG12 MALAGA, SPAIN Plaza De Tors

AUG13 ALMERIA, SPAIN Caseta Municipal

AUG15 SAN ROQUE (Cadiz), SPAIN Campeau de football municipal

AUG16 VILLAROBLEDO (albacete), SPAIN Recinto Ferial De Villar

AUG17 SANTANDER, SPAIN Palacio de Festivalez de Cantabria
OCT04 TOKYO, JAPAN International Forum

OCT06 OSAKA, JAPAN Kosiminken Hall
The Night of the Proms: 1997
"The Proms" is a multi-artist event that combines classical music with today's brightest popular music. It's become a great way to introduce classical music to the masses, while at the same time letting rock bands showcase with an orchestra backing them. The headliner this year was Simple Minds. Alan and the band appeared at multiple shows, playing three songs ("Eye In The Sky", "Old And Wise" and "Brother Up In Heaven"), as well as appearing in the finale. Other artists that performed included Debbie Harry (aka Blondie) and John Miles.
OCT31 ANTWERP, BELGIUM

NOV01 ANTWERP, BELGIUM

NOV02 ANTWERP, BELGIUM

NOV05 ANTWERP, BELGIUM

NOV06 ANTWERP, BELGIUM

NOV07 ANTWERP, BELGIUM

NOV08 FRANKFURT, GERMANY

NOV09 FRANKFURT, GERMANY

NOV10 ANTWERP, BELGIUM

NOV11 ANTWERP, BELGIUM

NOV13 ANTWERP, BELGIUM

NOV14 ANTWERP, BELGIUM

NOV15 ANTWERP, BELGIUM

NOV16 ANTWERP, BELGIUM

NOV18 DORTMUND, GERMANY

NOV19 DORTMUND, GERMANY

NOV22 ANTWERP, BELGIUM

DEC03 VIENNA, AUSTRIA

DEC04 MÜNCHEN, GERMANY

DEC06 ANTWERP, BELGIUM

DEC07 ANTWERP, BELGIUM
Personnel:
ALAN PARSONS: Guitar, vocal, keyboards, percussion

IAN BAIRNSON: Guitars and sax

STUART ELLIOTT: Drums

PETER BECKETT: Vocals, keyboards

JOHN GIBLIN: Bass (*)

JOHN BECK: Keyboards (*)

NEIL LOCKWOOD: Vocals, guitar

(*) Not at Proms shows.
---

Back To The Tour Date Menu
This page, copyright 1998 The Avenue / Avenue Communications.