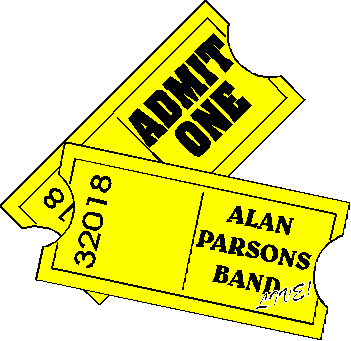 Alan Parsons
1999 Tour Dates
FESTIVALS IN EUROPE
Festival Dates:
JUN 27 MUNICH, GERMANY The Power of Humanity "What More Can I Give" For The Nelson Mandela Children's Fund

"Games People Play" and "Sirius/Eye In The Sky" were played by Alan Parsons / Neil Lockwood and Tony Hadley - Vocals / Stuart Elliott - Drums / Tim Renwick - Guitar / John Beck - Keyboards / Dick Nolan - Bass

The band then backed Ringo Starr on "Yellow Submarine" & "With A Little Help From My Friends". Jack Bruce - Bass
JUL 25 SAARBRUCKEN, GERMANY Night of the Proms - Festival
AUG 8 BELGIUM EuroRock - Festival The band was scheduled to play this date, but a rain storm forced them to cancel their performance because their equipment was wet.
"The Time Machine" Tour of USA/Canada:
SEP 9 Philadelphia, PA Gershman Auditorium

SEP 10 New York, NY Irving Plaza *

SEP 12 Towson, MD Recher Theatre

SEP 14 Toronto, ON The Guvernment

SEP 15 Cleveland, OH The Odeon

SEP 16 Kalamazoo, MI State Theatre

SEP 17 Milwaukee, WI Pabst Theatre

SEP 18 Chicago, IL House Of Blues

SEP 19 Kansas City, MO The Beaumont Club

SEP 21 Denver, CO Ogden Theater

SEP 22 Grand Junction, CO Avalon Theater

SEP 24 Vancouver, BC Chan Centre for the P.A.C.

SEP 25 Seattle, WA Moore Theatre

SEP 26 Portland, OR Aladdin Theatre

SEP 29 Ventura, CA Ventura Theater *

SEP 30 San Francisco, CA The Fillmore

OCT 01 West Hollywood, CA House of Blues *

OCT 02 San Diego, CA 4th and B *

OCT 03 Las Vegas, NV The Joint

OCT 04 Anaheim, CA Sun Theatre *

OCT 05 Phoenix, AZ Red River Music Hall

OCT 07 Atlanta, GA Variety Playhouse

OCT 08 West Palm Beach, FL Carefree Theatre

OCT 09 Lake Buena Vista, FL House of Blues

OCT 10 St. Petersburg, FL Jannus Landing
"The Time Machine" Tour of Europe and Japan:
OCT 19 Koblenz, GERMANY Alter Schlachthof

OCT 20 Offenbach, GERMANY Capitol

OCT 21 Deggendorf, GERMANY Stadthalle

OCT 23 Mannheim, GERMANY Capitol

OCT 25 Muenster, GERMANY i.W., Jovel

OCT 26 Hannover, GERMANY Theater am Aegi

OCT 27 Hamburg, GERMANY Auf der Grossen Freiheit

OCT 29 Muenchen, GERMANY Muffat-Halle

OCT 30 Wermesgruen, GERMANY Brauerei

OCT 31 Berlin, GERMANY Columbia-Halle

NOV 2 Saarbruecken, GERMANY Kongresszentrum

NOV 3 Rastatt, GERMANY Badener Halle

NOV 4 Schweiz, SWITZERLAND Pratteln bei Basel

NOV 6 Wolfenbuettel, GERMANY Lindenhalle

NOV 8 Nijmegen, HOLLAND de Vereniging

NOV 9 Utrecht, HOLLAND Vredenburg

NOV 10 Oberhausen, GERMANY Turbinenhalle

NOV 11 Dresden, GERMANY Schlachthof

DEC 14-15 Tokyo, JAPAN Sun Plaza Hall

DEC 16 Osaka, JAPAN Zepp Osaka
Personnel:
ALAN PARSONS: Guitar, vocal, keyboards, percussion

IAN BAIRNSON: Guitars

STUART ELLIOTT: Drums

DICK NOLAN: Bass

JOHN BECK: Keyboards

NEIL LOCKWOOD: Vocals

DAVID PACK: Vocals at selected shows (*)

TONY HADLEY: Vocals on European leg
---

Back To The Tour Date Menu
This page, copyright 1998 The Avenue / Avenue Communications.