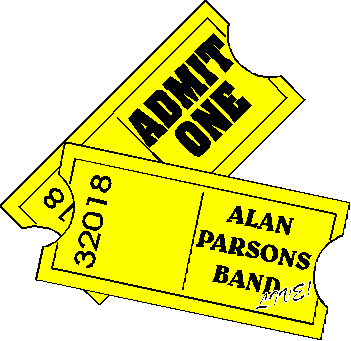 Alan Parsons
2002 Tour Dates
A WALK DOWN ABBEY ROAD
After the success of last summer's "A Walk Down Abbey Road" tour, Alan has been asked to lead the tour again. The line-up was Alan Parsons, Christopher Cross, Jack Bruce (founding member of Cream), Mark Farner (of Grand Funk Railroad), John Beck, and Todd Rundgren (Todd will be only at selected dates *). The house band was John Beck (keyboards), Godfrey Townsend (guitar), and Steve Murphy (drums).
Eric Carmen was originally planned to be a part of the tour, and take Rundgren's place at the shows where Todd wasn't available, but he backed out before his first scheduled show.
JUNE 24/02 San Diego, CA Humphrey's Concerts by The Bay *

JUNE 25/02 Sacramento, CA Radisson Hotel *

JUNE 27/02 Saratoga, CA Mountain Winery *

JUNE 28/02 Concord, CA Chronicle Pavilion At Concord *

JUNE 29/02 Los Angeles, CA Greek Theatre *

JUNE 30/02 Phoenix, AZ Celebrity Theater *

JULY 3/02 Milwaukee, WI Summerfest *

JULY 6/02 Chicago, IL Taste of Chicago - Petrillo Music Shell 3PM

JULY 10/02 Detroit, MI (Clarkston, MI) DTE Energy Music Theatre

JULY 12/02 Columbus, OH Columbus Zoo Amphitheater

JULY 14/02 Burlington, IA Memorial Auditorium *

JULY 16/02 Toronto, ON Massey Hall *

JULY 18/02 Brooklyn, NY Seaside Park Festival

JULY 19/02 Uncasville, CT Mohegan Sun *

JULY 21/02 Hyannis, MA Cape Cod Melody Tent *

JULY 23/02 Hampton Beach, NH Hampton Beach Casino Ballroom *

JULY 24/02 Glenside (Philadelphia), PA Keswick Theatre

JULY 25/02 Westbury, NY Westbury Music Fair *

JULY 26/02 Atlantic City, NJ Hilton Grand Casino *

JULY 27/02 Vienna VA Wolf Trap (Filene Center)

JULY 28/02 Atlantic City, NJ Hilton Grand Casino *
A few other shows were scheduled, but were later cancelled.
---

Back To The Tour Date Menu
This page, copyright 2002 The Avenue / Avenue Communications.