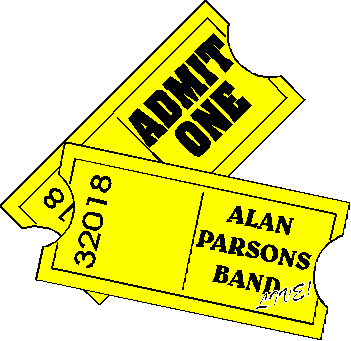 Alan Parsons
2003 Tour Dates
A WALK DOWN ABBEY ROAD
After the success of last summer's "A Walk Down Abbey Road" tour, Alan has been asked to lead the tour again. The line-up is Alan Parsons, Christopher Cross, and Todd Rundgren. The house band is Godfrey Townsend (guitar), and Steve Murphy (drums), Manny Focarazzo (keyboards), and John Montagna (bass). In Atlantic City they will be joined by Denny Laine (of Wings and The Moody Blues), and Joey Molland (Badfinger).
Note: This year's tour will only be at selected dates.
JULY 17/03 Dayton, OHInventing Flight

AUG. 8 & 9/03 ATLANTIC CITY, NJ Atlantic City Hilton
ALAN PARSONS LIVE PROJECT
The band set out on selected dates, rather than a full tour.
JAN. 10-11/03 Spark, NV John Ascuaga's Nugget

FEB. 8/03 Cupertino, CA Flint Center *** POSTPONED ***

FEB. 23/03 San Juan, PR Hilton Caribe Hotel

AUG. 2/03 SEATTLE, WA The Moore Theatre KC

AUG. 16/03 MILWAUKEE, WI A La Carte Festival KC

SEPT. 18/03 ANAHEIM, CA The Grove at Anaheim JLT

SEPT. 19/03 LAS VEGAS, NV Boulder Station Hotel JLT

SEPT. 20/03 THOUSAND OAKS, CA The Canyon Club JLT

SEPT. 20/03 PHOENIX, AZ TBA CANCELLED

NOV. 21/03 ST. CHARLES, MO Ameristar Casino PJO

NOV. 22/03 ST. CHARLES, MO Ameristar Casino PJO

DEC. 12/03 MADRID, SPAIN Macumba PJO

DEC. 13/03 ATARFE-GRANADA, SPAIN Pabellon Cubierto PJO

DEC. 14/03 BENIDORM, SPAIN Auditorium Terra Mitica PJO
ALAN PARSONS LIVE PROJECT: TOUR OF MEXICO
OCT. 2/03 TOLUCA Teatro Morelos PJO

OCT. 3/03 SAN LUIS POTOSI Auditorio Tangamanga PJO

OCT. 4/03 AGUASCALIENTES Auditorio Municipal Aguascalientes PJO

OCT. 7/03 Press and TV show National Auditorium - two songs live PJO

Oct 9 QUERETARO Auditoria Josefa Ortiz de Dominguez PJO

Oct 10 LEON Domo de la Feria PJO

Oct 11 PUEBLA Plaza de Toros El Relicario PJO

OCT. 15/03 MORELIA Palacio del Arte PJO

OCT. 16/03 GUADALAJARA Hospicio Cabanas PJO

OCT. 18/03 CIUDAD JUAREZ Poliforo Juan Gabriel PJO

OCT. 21/03 MEXICO CITY National Auditorium PJO

OCT. 23/03 VERACRUZ Cenro de Convenciones PJO
Personnel:
ALAN PARSONS: Guitar, vocal, keyboards, percussion

GODFREY TOWNSEND: Guitar

STEVE MURPHY: Drums

KIP WINGER: Vocals (at selected dates - KW)

KEVIN CHALFANT: Vocals (at selected dates - KC)

JOE LYNN TURNER: Vocals (at selected dates - JLT)

P.J. OLSSON: Vocals (at selected dates - PJO)

JOHN MONTAGNA: Bass

MANNY FOCARAZZO: Keyboards
---

Back To The Tour Date Menu
This page, copyright 2003 The Avenue / Avenue Communications.