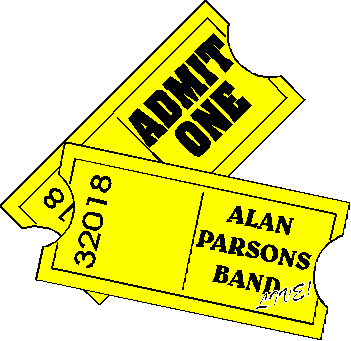 Alan Parsons
2004 Tour Dates
ALAN PARSONS LIVE PROJECT
The band set out on selected dates, rather than a full tour.
JAN. 16/04 CHICAGO, IL Oasis One Sixty PJO

JAN. 17/04 SHEBOYGAN, WI Weill Center PJO

MAR. 12/04 LINCOLN, CA Thunder Valley Casino PJO

APR. 8-10/04 SPARKS, NV John Ascuaga's NuggetPJO

JUNE 18/04 JACKPOT, NV Cactus Pete's

JUNE 26/04 MUSKEGON, MI Summer Celebration

AUG. 25/04 MILWAUKEE, WI Pabst Theatre

AUG. 26/04 LAC DU FLAMBEAU, WI Lake of Torches Casino

AUG. 27/04 BOULDER STATION, NV Boulder Station Hotel

AUG. 28/04 THOUSAND OAKS, CA Canyon Club

AUG. 31/04 CERRITOS, CA Cerritos Center

SEPT. 30/04 DETROIT, MI Detroit Opera HouseThis is a special date: Dennis DeYoung is performing with the Michigan Opera Orchestra, and Alan with be performing at this show.

OCT. 29/04 HOME THEATER CRUISE Home Theater Cruise

NOV. 10/04 NEW YORK, NY - BB Kings BB Kings

DEC. 16/04 LOS ANGELES, CA - KLOS - Mark and Brian Christmas show

DEC. 17/04 ANAHEIM, CA - The Grove at Anaheim
TOUR OF SPAIN
MAY 12-13/04 TENERIFE

MAY 14/04 MADRID

MAY 15/04 MURCIA

MAY 16/04 MALAGA Palacio De Congresos

MAY 18/04 LA CORUNA

MAY 19/04 SALAMANCE

MAY 20/04 VALENCIA

MAY 21/04 BARCELONA
A WALK DOWN ABBEY ROAD
After the success of last summer's "A Walk Down Abbey Road" tour, Alan has been asked to lead the tour again. The line-up is Alan Parsons, Christopher Cross, and Todd Rundgren. The house band is Godfrey Townsend (guitar), and Steve Murphy (drums), Manny Focarazzo (keyboards), and John Montagna (bass). In Atlantic City they will be joined by Denny Laine (of Wings and The Moody Blues), and Joey Molland (Badfinger).
Note: This year's tour will only be at selected dates.
JUNE 12 & 13/04 ATLANTIC CITY, NJ Atlantic City Hilton
TOUR OF EUROPE
This is not a "Reunion Tour", and only the current live band is scheduled to appear.
OCT. 3-4/04 HARDENBERG, HOLLAND Podium

OCT. 5/04 TILBURG, HOLLAND 013

OCT. 6/04 ZURICH, SWITZERLAND Volkshaus

OCT. 7/04 LONDON, ENGLAND Astoria

OCT. 9/04 ATHENS, GREECE Gagarin 205

OCT. 10/04 THESSALONIKI, GREECE Fix

OCT. 12/04 KREFELD, GERMANY Rennbahn

OCT. 13/04 HAMBURG, GERMANY Fabrik

OCT. 14/04 COPENHAGEN, DENMARK Amager Bio

OCT. 15/04 WARSAW, POLAND Congress Hall

OCT. 16/04 MODENA, ITALY Vox Club CANCELLED

OCT. 17/04 RAVENNA, ITALY Teatro Socjale

OCT. 18/04 ROME, ITALY TBACANCELLED

OCT. 19/04 PALERMO, ITALY Cineteatro Golden

OCT. 20/04 FIRENZE, ITALY Sasch Hall

OCT. 21/04 MILAN, ITALY Alcatraz

OCT. 22/04 MANTOVA, ITALY Teatro Ariston
Personnel:
ALAN PARSONS: Guitar, vocal, keyboards, percussion

GODFREY TOWNSEND: Guitar

STEVE MURPHY: Drums

P.J. OLSSON: Vocals

JOHN MONTAGNA: Bass

MANNY FOCARAZZO: Keyboards
---

Back To The Tour Date Menu
This page, copyright 2004 The Avenue / Avenue Communications.